Surround Sound in Fripp Island, SC
Are you a music lover or movie buff who needs surround sound? Check out these Fripp Island rentals. Call 888-741-8974 for more info.
Are you a music lover or movie buff who needs surround sound? Check out these Fripp Island rentals. Call 888-741-8974 for more info.
3 Bedrooms
Baths: 3 Full
Sleeps 8
Stunning marsh & water views as you enter this completely renovated three bedroom home with three full baths! This very private neighborhood offers all the beauty and tranquility you desire with panoramic views of the marsh and Old House Creek.
4 Bedrooms
Baths: 4.5 Full
Sleeps 12
108 Davis Love Drive is a beautiful two story house located in the heart of Fripp Island. This slice of heaven, four bedroom home, has a bathroom in every bedroom plus a half bath on the first floor. Built in 2007 and professionally decorated, this home has beautiful views of the tidal marsh from the expansive back porches and two huge front porches where you can catch a glimpse of the golfers through the trees of the protected wetlands.
4 Bedrooms
Baths: 3 Full
Sleeps 10
Lovely two story home with unique tropical décor comfortably houses up to 10 guests. Take a short stroll to the Marina and Bonito Boathouse and enjoy all of the amenities that brought you to the Island in the first place. This unique hideaway offers great views of the golf course and offers you a lovely screened in porch to enjoy the gentle ocean breezes.
6 Bedrooms
Baths: 4.5 Full
Sleeps 14
Gorgeous two story oceanfront home. Six bedrooms four 1/2 baths accommodates up to 14 guests, making this the perfect retreat for your large family or group. Note: there is a small bunk room with 4 twin beds. A large open deck with a gas grill provides the ideal outdoor dining area to take in the stunning ocean views. Walk or drive our included golf cart to Fripp's unique resort amenities, or just stay "at home" and enjoy the ocean, right outside your door.
4 Bedrooms
Baths: 3 Full
Sleeps 14
With room for up to 14 guests, this unique 4 bedroom, 3 bath home provides luxury accommodations for everyone in your large group. Stunning views and proximity to Fripp Island's wild flora and fauna make this the ideal retreat for everyone. Golfers will love the convenience of the nearby Ocean Creek Golf Course; ride the included golf cart to all of the best of the rest that Fripp has to offer Island visitors.
4 Bedrooms
Baths: 3 Full
Sleeps 10
Truly special single story four bedroom, three bath home is located in the quiet and serene North End. Relax on the front deck as you gaze at the lovely pond just across the way. The pool and park are a short walk away. Thoughtful amenities have been provided for you and up to 9 other guests. Well behaved pet considered upon approval.
5 Bedrooms
Baths: 6 Full
Sleeps 20
This is a superb 5 bedroom, 6 bath, ocean view home located in the southern area of Fripp Island, and only 100 yards to the beach. This house is great for family reunions, multiple families, or golf groups, as it sleeps 16 people.
3 Bedrooms
Baths: 3.5 Full
Sleeps 8
68 Davis love is a lovely two story plantation style home overlooking the Ocean Creek Golf Course. Just a short walk to the Marina and the Bonito Boathouse, this beautiful 3 bedroom 31/2 bath home is perfect for visitors who want that down home feeling in a luxury setting.
5 Bedrooms
Baths: 4.5 Full
Sleeps 14
Welcome to "Sand's Hideaway", a relaxing and wonderful getaway for your perfect beach vacation. This is a stunning oceanfront property with 5 bedrooms and 4 and 1/2 baths. It is centrally located on the 24/7 beach with a stones throw to the ocean. The many windows provide gorgeous sunrise and sunset views. This house also offers a screened in porch and large deck, Oceanside, to sit back and unwind, enjoying the delight of being on the Coast.
5 Bedrooms
Baths: 4 Full
Sleeps 12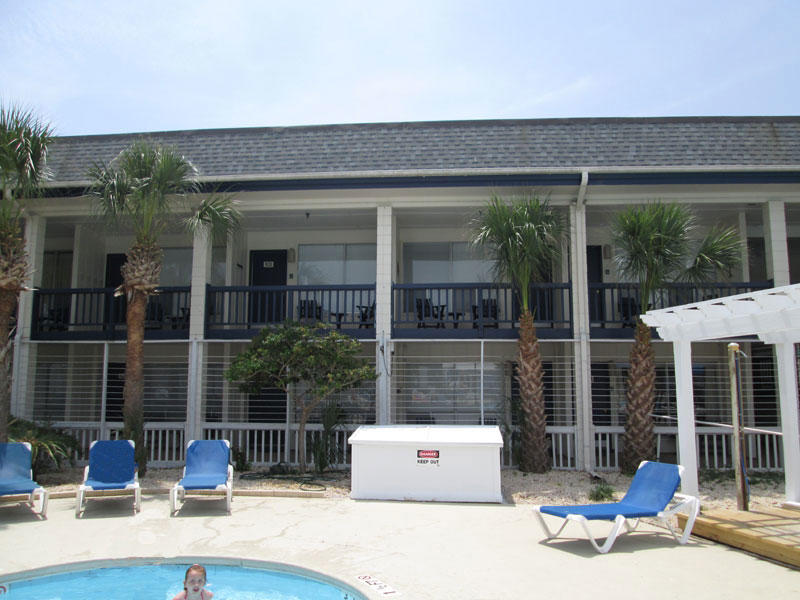 Studio
Baths: 1 Full
Sleeps 4
Newly renovated studio suite. Full kitchen and comfortable extras make this a perfect hideaway for a last minute getaway. With accommodation for up to 4 people, walk to all of the great resort amenities, including tennis, restaurants, swimming pools, and the fitness center.
5 Bedrooms
Baths: 4 Full
Sleeps 15
Two story oceanfront five bedroom, four bath home offers stunning coastal views. Enjoy the deck that literally juts out over the water. This spacious stunner accommodates up to 15 guests and is close to all of the Resort's luxury amenities. You will enjoy private beach access or lounge on the large ocean side deck and relax to the sounds of the lapping waves. Ideal beach getaway for you and your large group.
3 Bedrooms
Baths: 2.5 Full
Sleeps 8
Classic, pet-friendly 3 bedroom, 2.5 bath house is located near all the very best that Fripp Island has to offer. This two-story home accommodates up to 8 guests. Listen to the ocean and enjoy tropical breezes as you sit on the spacious front porch and observe your wildlife neighbors passing through the front yard. The best of the resort's amenities are just a short walk away from this quiet and serene hideaway.